Psychedelic.FM Welcomes: Vantara Vichitra Records
Written by Psychedelic.FM on November 10, 2023
With great honor and pleasure we welcome Vantara Vichitra Records to weekly host a session of the new segment "Label Hour".
Tune in every Thursday evening from 21h00 till 22h00 for the best label tracks, their newest releases and exhilarating DJ sets by the label's talented Artists.
To kick of this series they present us the legendary Artist 'SpirALTER'.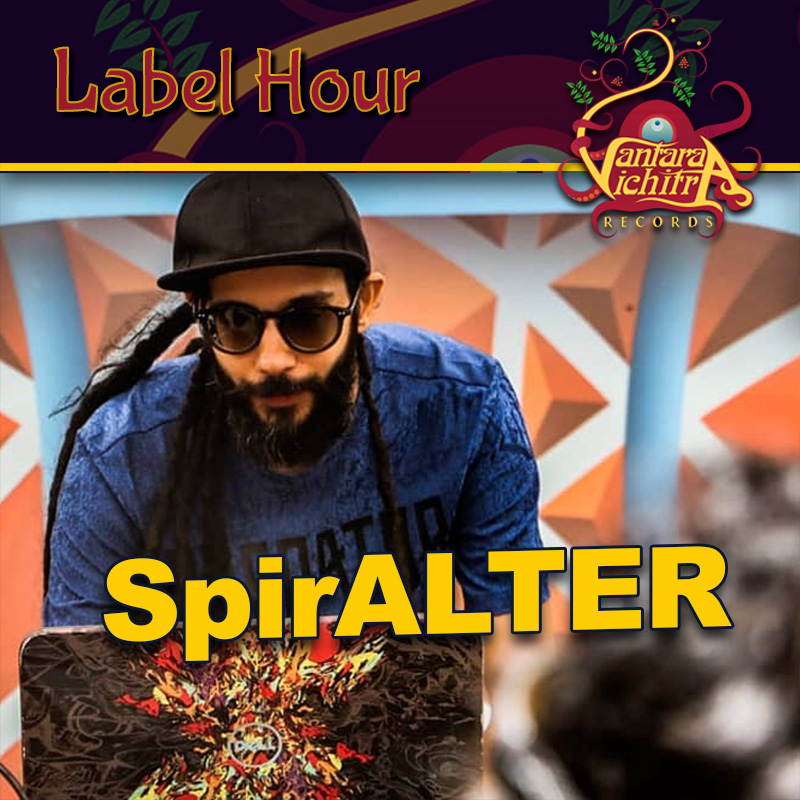 SpirALTER, a.k.a. Spiral, is the Musical Master Plan of Shahveer from Bombay (India), created early 2006. He specializes in Psytrance Music with a combustion of Innovative arrangements, Visionary Designs and Euphoric Landscapes.
His Power Packed Performances are appreciated by blasting dance floors all over the world.
Spiral, the Musical Master Plan of Shahveer from Bombay/India, emerged in 2006, specializing in Psytrance. His performances, fueled by innovative arrangements, visionary designs, and euphoric landscapes, captivate dancefloors worldwide. Immersed in sound since youth, influenced by his father's recording studio and uncle Gary Lawyer, an Indian Rock pioneer.

With initial releases in 2006 on Ketuh Recs, Spiral played at renowned festivals globally, including Modem Festival (Croatia) and Hitech Revolution (Brazil). He's a qualified Sound Engineer with 500+ ads at Bandwagon Recording Studios.

Spiral's debut album "Tornado" (2019) on Kamino Recs, spirALTER's EP on Vantara Vichitra (2021), and the second full-length album "Imagination Creates Reality" on Blackout Recs showcase his musical journey.
Stay tuned!
---
Reader's opinions
---